How far would you go for a tiny human being in need? Police officer Celeste Ayala from Berisso, Argentina, went above and beyond when she found herself in a situation where she could step in for someone vulnerable and fragile; a neglected baby who suffered from malnutrition and was called "dirty and smelly." What she did to help the tiny soul made her a viral sensation and got her a promotion at work.
"That's the type of police we're proud of, the police we want," the minister of security of the Buenos Aires province said after officer Ayala was promoted to sergeant.
Namely, the baby was brought to the Sister Maria Ludovica children's hospital while Ayala was on the job as a guard.
Without even thinking twice, she took the baby that was handed to her, and she started breastfeeding it.
"I noticed that he was hungry, as he was putting his hand into his mouth, so I asked to hug him and breastfeed him. It was a sad moment, it broke my soul seeing him like this, society should be sensitive to the issues affecting children, it cannot keep happening," she told a local outlet.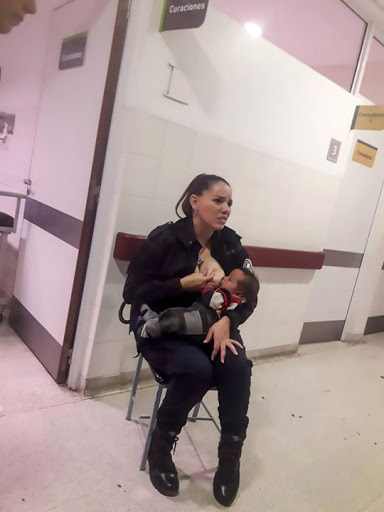 One of her colleagues, Marcos Heredia, believed that Ayala's deed was worth sharing, so he posted a photo of her with the baby on the social media.
In the blink of an eye, the photo was shared and commented on by a huge number of people who only had words of praise for the kind and quick-thinking officer.
An official from the brigade where officer Ayala volunteers in her spare time also commented on her act of kindness and said: "We want to congratulate the voluntary firefighting cadet Celeste Ayala who yesterday in her job as police officer whilst she was on guard duty at the Hospital, breastfed a young child who arrived crying. Actions like these fill us with pride and obligate us to redouble the effort, the work and the solidarity with our community."
What an exceptional woman!