Teachers are those special people who help shape little minds and educate our children, thus help them become respected individuals.
Unfortunately, not every teaches is a good teacher. There are also those who treat the students with disrespect and crush their self-confidence.
Recently, an incident which took place in a classroom in China enraged many people. A secondary school student from he Suyu High School named Xiaochen came home from school with huge red marks on his face which resembled palm prints. When his parents asked him what had happened to his face, he told them that one of his teacher slapped him forcefully 12 times. Apparently, Xiaochen was chatting to another student during what was supposed to be a self-study time and the teacher dragged him from his seat and started slapping him in front of the entire class. According to one of Xiaochen's classmates, the teacher first slapped a girl before hitting Xiaochen. This cruelty caused a concussion to Xiaochen. A few blood vessels near his eye burst and he is being treated at the hospital for the injuries that he sustained.
The Beijing Time shared a photo of the student at his hospital bed at Suqian Chinese Medicine Hospital.
Xiaochen also suffered temporary hearing loss.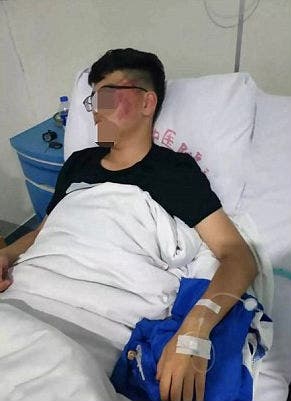 According to local magazines, the teacher was already dismissed by the Ministry of Education.
The school agreed to cover Xiaochen's medical expenses. There are no reports whether the teacher will face any charges, despite the student's parents' plea for him to be charged for hitting their son.
Daily Mail shared the story and people couldn't help but take a stand. They all agree that no teacher should ever hit a student. There is always a way to approach a problem without any form of violence being used.
Every teacher should serve as a role model and never ever act in an aggressive manner in the classroom.
Some people commented that this form of behavior is not that unusual in China, but we can never know that for sure.