The coronavirus pandemic affected many business and families. Many people lost their jobs and are struggling to make ends meet and that changed the quality of their lives a great deal.
One mother from Bristol named Hayley Dainton is sharing a story that left her furious and enraged a lot of other parents who found themselves in a similar position. Namely, her 11-year-old son Oliver was overly excited to get back to school again, but his joy was short-lived as the school called his mom to come pick him up after just 15 minutes from his arrival.
When Hayley picked up the phone she expected to hear that Oliver settled in nicely, but instead, she was told how he couldn't attend classes because he didn't have the right uniform.
Oliver was wearing a black sweatshirt – instead of the official school sweatshirt, and white trainers instead of black shoes.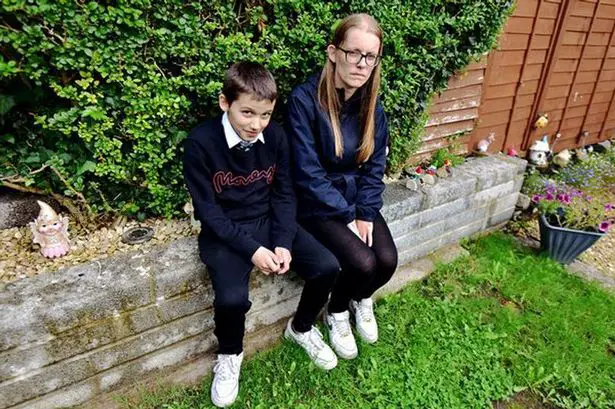 Hayley got really mad because she believes the school, Hanham Woods Academy in Bristol, should have been more considerate. She explained how the only store that sells the official uniform was closed for personal shopping because of the pandemic and only allows online purchasing. She added how she struggled to collect the money for the fancy uniform all summer and when she paid for it she was told it would be delivered within 10 days.
"Oliver was very smart, and I really tried to get him looking the part. He had a shirt, he had a black sweatshirt and he was able to borrow his big sister's tie as she's not back in til next week," Hayley said. "It is a real struggle for parents on a budget to be able to afford this expensive school uniform and shoes, and I've been saving up as much as I could all summer.
The school offered Oliver another student's uniform but he refused to wear it given the coronavirus.
"Most schools have relaxed their uniform policy until next term, as they understand the struggles parents have had with uniform orders because of the pandemic. My son has not got off to a good start at all, and it's all down to being picked on about uniform," she added. "He hasn't even seen inside his classroom."
Hayley, who is a mother of five, who all attend school, says it's hard for her to get things sorted and the school's rules aren't making things easier for her.
Hanham Woods Academy's principal Steve Kneller spoke of the incident and said the school is helping those parents who can't afford uniforms if they ask for it. "At Hanham Woods Academy we pride ourselves on having high expectations, including smart appearance, and were delighted at how well our new Year 7 students arrived at the academy yesterday (Wednesday) and our Year 11 students today.
"Where families ask us for support with uniform, we do of course ensure that we offer support, including providing uniform for those most who need it.
"We look forward to welcoming all of our remaining students back to school next week – we are genuinely excited to see them."
What do you think of this? Do you believe schools shouldn't be so strict regarding following uniform rules during these hard times for the society?