How far is a mother willing to go for the well-being of her child? No one can answer this with certainty because mother's love knows no boundaries.
Recently, Nichole Schubert shared with GMA the heartbreaking decision she made to report her then 17-year-old son to the police after she stumbled upon his notebook which contained detailed plans for a mass shooting he was planning to do in 2019.
This mother's heart was shattered into a million pieces. According to her, her son's plan was to kill her first and then start a mass shooting at the Washington high school that he attended.
"Your first instinct as a parent is to protect your child," she told Good Morning America. "But at that point I felt like if he is actually going to do these things, he would be safer in jail."
Speaking of the moment she learned of her son's gruesome plan, Nichole said, "It was very descriptive. It was just heartbreaking."
In order to protect her son and the number of lives he intended to claim, Nichole allerted the police and asked for help.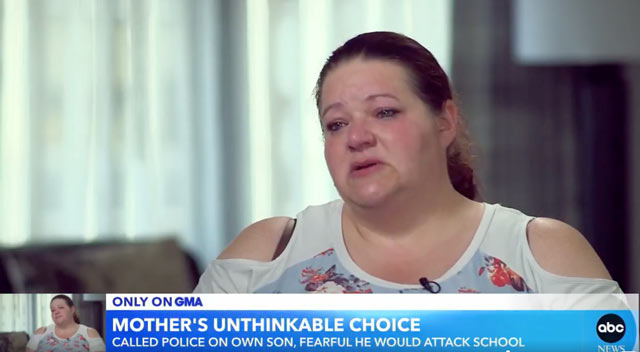 "It wasn't just about me and him at that point, it was about a whole school."
This mom told the police how she believed her son's intentions were serious because she believed he made what resembled a pipe bomb all by himself.
Her son, who initially claimed that the journal writings were a fantasy and not a real plan, was arrested and pleaded guilty to a felony charge for threatening to bomb or injure property and misdemeanors for harassment. He underwent a mental evaluation and completed a rehabilitation program and community service.
Nichole wants to raise awareness and remind every parent out there to pay close attention to their children's actions.
"Stay in their business. Even if they don't like it. They're not going to like it. But as parents, it's our job to know what our kids are doing," she said. "Just be aware and watch for signs. Kids will normally tell you by their actions when something is wrong."
"Obviously, we can't control our children's actions all the time. Who can? But there are signs that something's not right, something's, you know, why is he acting weird? Why? Why is he so to himself?" she continued. "I was in his room, you know? What are you doing? Where are you going? All the time. And he hated it. But he's alive. And everyone's alive and he's not in jail."
She says she doesn't regret her decision to report her son to the authorities because that decision helped save many lives.
For Nichole's entire interview go to the video below.
Please SHARE this story with your family and friends on Facebook!
Bored Daddy
Love and Peace