The moment they welcome them into the world, babies become mom's most precious jewels. And the love and devotion mothers give to their bundles of joy can't be measured.
Gemma Kate is a baby girl who is showered with love every single day. Needless to say, most of the affection and devotion comes from her loving mommy who doesn't miss a chance to tell Gemma she loves her to the moon and back. And this wouldn't really be surprising if Gemma doesn't say "I love you" in return.
We are so glad the video of these two expressing their deepest feelings for one another was caught on tape, otherwise it would be hard to believe that a baby is really able to say those words.
If you wonder how is it possible for such a young child to speak, the Babycenter has an explanation. According to them, children Gemma's age (she was 15 months old when the video was taken) are able to form basic sounds of words. Their website says, "The first proper word is often said around the baby's first birthday. First words are usually simple names or easy to say objects. Nouns usually come first, like 'ball.'
These words don't always sound like those adults speak, but Gemma here is able to perfectly repeat what her mom says. Same pitch, same words, simply adorable.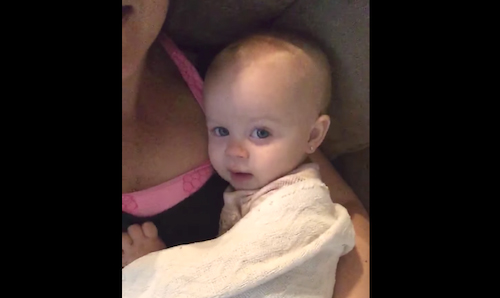 Gemma melted our hearts. We hope she will always be able to express her love for her parents this way.
With all the negative stuff happening in the world, Gemma Kate will remind you that no matter what, life is really beautiful and we have to learn how to be happy for the little things, such as her reaction that made our day.
SHARE AWAY FOLKS! 🙂