The period during which Donald Trump was the head of the country was filled with plenty of controversy. He, however, definitely left mark in American history.
When he left the White House, it was widely reported that his wife, Melania Trump was relieved. Apparently, she had it enough of the life as a First Lady and rumors were she wasn't happy with the fact that her husband entered another political battle for president. Back in 2020, while Trump was yet in the race to secure a second term, a source told CNN that Melania "just wants to go home." When Trump announced he would be running for president yet again in 2024, that same source said, "that might not go over well".
Trump lost the elections and Jo Biden took his place, but as most of us would agree, Biden will never steal the spotlight the way Trump did.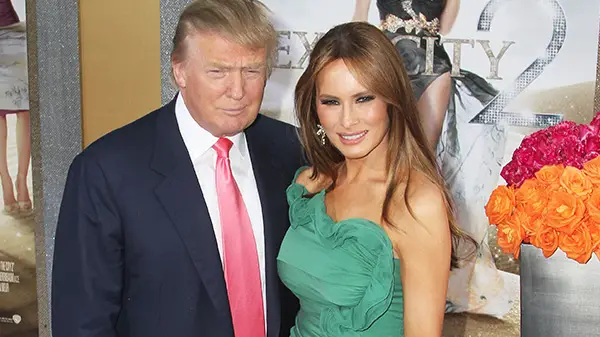 In recent time, Donald Trump neither confirmed nor denied if he will be running for re-election in 2024, and there is a lot of space for interpretation of his recent appearances at political rallies at different countries.
In an interview for Fox & Friends, Melania dropped a hint regarding her husband's future political plans, although it is highly unlikely that we will ever hear a straightforward answer to the question of whether Trump will try to secure for himself the most powerful seat in the world.
In the interview, Melania was to reveal her initiative to celebrate foster care month. She said her plan was to help young adults in foster care to attend college. She even Facetimed one of the recipients of a scholarship, Michael Whitesman, who thanked her for her generosity, to which Melania replied, "Study hard and get good grades." The young man then promised, "I will, I got you, straight A's all the way."
Melania Trump highlights media scrutiny in exclusive interview with Pete Hegseth: 'They're biased'https://t.co/7qCVT9xZGi

— Fox News (@FoxNews) May 15, 2022
However, that wasn't all she talked about. Among the rest, the former First Lady spoke of her exclusion from the cover of Vogue Magazine, and the current administration leading the country.
"I think it's sad to see what's going on, if you really look deeply into it," she told Hegseth.
"I think a lot of people are struggling and suffering and what is going on around the world as well. So it's very sad to see and I hope it changes fast."
First Lady Melania Trump deserves to be on the cover of Vogue! pic.twitter.com/I09ao4I1aw

— Brigitte Gabriel (@ACTBrigitte) May 14, 2022
Asked about what she thinks of her husband's achievements during his years of presidency, she said, "I think we achieved a lot in four years of the Trump administration." For the possibility of her husband running again, gorgeous Melania answered, "Never say never," leaving many both stunned and puzzled.
Trump himself has also dropped hints that he is ready to enter a lengthy election campaign as he took the stage at the Austin Convention Center in Texas some time ago as part of his American Freedom Tour, and urged Republicans to get ready to "take back" the United States when the next election rolls around.
Melania Trump blasts current 'leadership' as the reason for baby formula shortage https://t.co/qbaC6QcZZ6

— RSBN 🇺🇸 (@RSBNetwork) May 16, 2022
Joined by former Secretary of State Mike Pompeo, Trump told the crowd, "I ask you to get ready to work, get ready to fight, get ready to win — and win like never before.
"Together, we will take back the House, we will take the Senate, and we will take back our country."
We are yet to see what the future holds for the Trumps when it comes to their life in politics.
Please SHARE this article with your family and friends on Facebook.
Bored Daddy
Love and Peace