Even though there are a lot of people who would just turn their head on the other side when they see an animal out on the street all alone and scared, there are those individuals like Jason Gasparik who'd do anything in their power to help the confused creature.
On March 1, as this guy was walking by the post office in Charlotte, he took a notice of a chocolate Labrador who was obviously frightened and needed a helping hand. Without having any second thoughts, Gasparik took it home and was determined to track the dog's owner down. The Lab was in a good shape so he assumed whoever owned her was probably losing their mind over where their pet could be.
Gasparik took it to social media to ask whether someone could recognize this sweet chocolate Lab, but to no avail. He then got this idea of taking her to a vet's and see whether she was micro-chipped. When the vet told Gasparik she was, he immediately called the number. But as it turned out, he got to speak to a breeder from Pennsylvania who sold the dog to someone in Charlotte years ago. That meant the search wasn't owner yet.
The guy then decided to do things the old-fashioned way. He printed a bunch of flyers with Roxy's picture asking whether someone knew her. As he didn't get any calls, he and Roxy waited at the busiest street corner hoping her owner would just pop out and take her home.
This dude literally standing on the corner of Ballantyne Commons and Rea Road today trying to find a lost dog's owner. Good people do exist 🙌👏
(Owner still not found). pic.twitter.com/W81dpQD47n

— Lyndsay Tapases ☔ (@LyndsayWBTV) March 3, 2019
It turned out Gasparik's flyers were the right thing to do as they helped reach Roxy's owner Sam. The man was driving around asking people whether they have seen a chocolate Lab when a woman told him how she has noticed a flyer of a dog matching the description.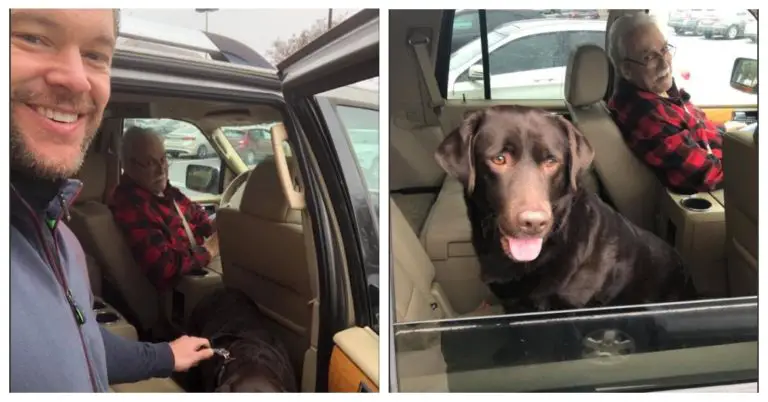 Roxy's real name was Indy and she was finally reunited with her family. As for Gasparik, he grew so fond of the dog that he offered to take her on regular walks. He also updated her microchip information.
Gasparik is indeed the best fellow ever. This world definitely needs more people like him.