Harry's presence at his father's coronation was a widely discussed topic ahead of the big event. It was made public that both he and his wife, Meghan Markle, had been invited to the ceremony, but according to the press, they had conditions if they were about to attend what was dubbed the mark of the new era for Britain.
While thousands of people filled the streets of London and many distinguished guests were in attendance, the number of those watching the new King being crowned from the comfort of their home reached 20 million.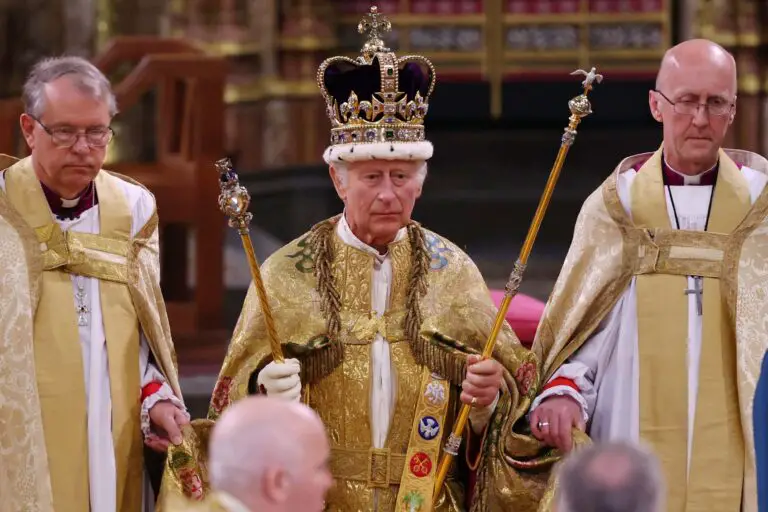 Prince Harry was there to support his father, but Meghan stayed in California with the couple's two children, Archie, who celebrated his fourth birthday on the same day his grandfather was made King, and sweet Lili.
Following the Westminster Abbey ceremony, the royals, including William and Kate and their three children, appeared on the Buckingham Palace balcony, but Harry, as a non-working royal, wasn't invited there. Allegedly, he and Meghan asked to appear on the balcony if they were to attend the coronation, but their wish was obviously not fulfilled and Harry had to settle with only being part of the coronation as a guest.
For the occasion, the Prince, who had his first public appearance after the release of his memoir Spare at the coronation, wore a black custom Dior three-piece suit with coattails. He was not allowed to wear his military uniform as he's not a working royal following the Megxit when he and Meghan stepped down from their royal duties and left Britain behind.
On his neck, Harry wore an honorary cross and had his military medals pinned to the left side of his chest. The star around his neck indicates he is the "Knight Commander of the Royal Victorian Order" (RVO). Further, it honors his personal service to the monarch of the Commonwealth.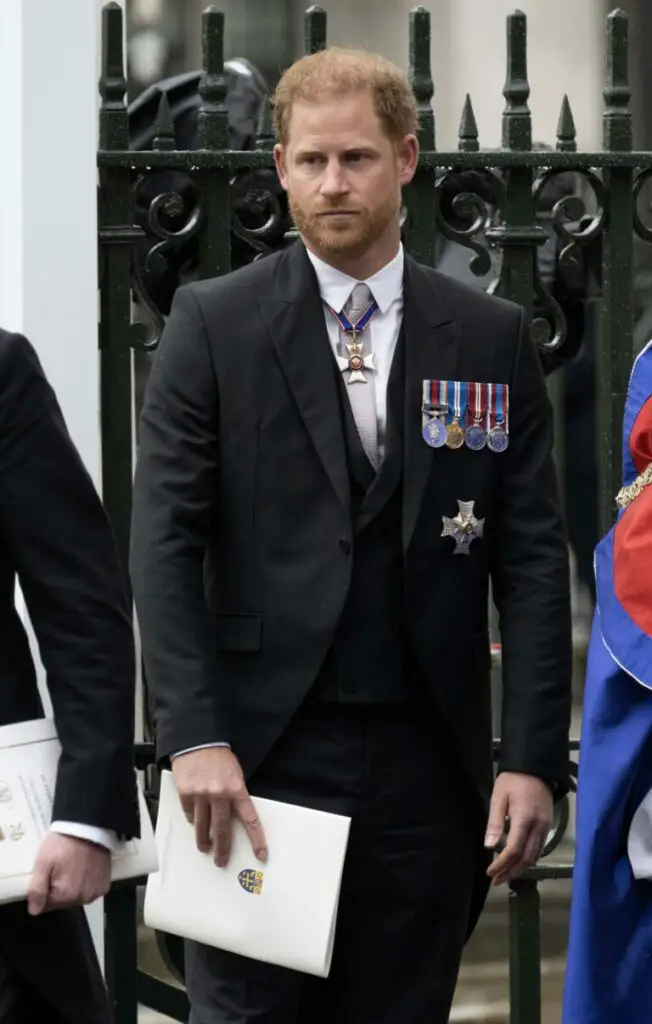 During the procession, Harry didn't walk alongside his brother William, but other royals. He was then seated next to his cousin Princess Eugenie, who is said to be the only royal to have visited Harry and Meghan in the US, and her husband, Jack Brooksbank. Harry got to sit just two rows behind Prince William and Kate Middleton, as well as two of their three children, Princess Charlotte and Prince Louis.
"There were discussions that the seating could be arranged on line of succession. But that would have put fifth-in-line Harry front and centre — and with William and Kate," a source told The Sun.
"Instead the decision was working royals only at the front and work back from there. Harry will be a long way from his father."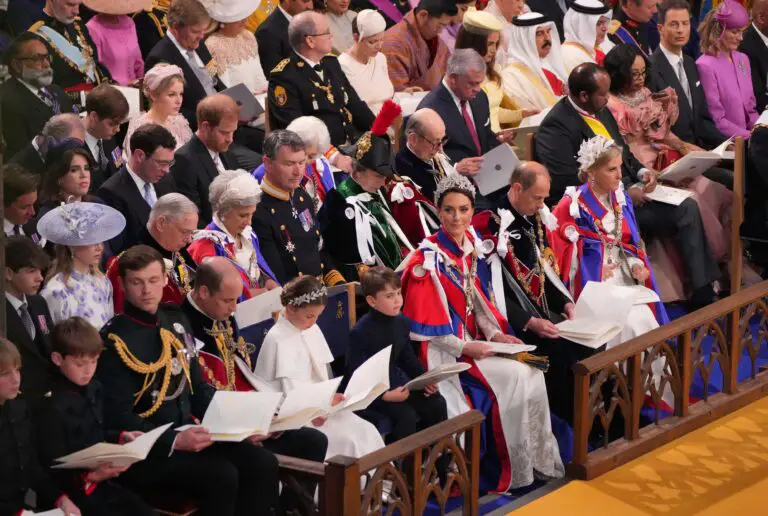 Before the ceremony started, Harry could be seen chatting with Jack Brooksbank, and according lip-reading expert Jerey Freeman, one of the things Harry said was, "I'm fed up with the way they treat me."
As per The Sun, he also caught Harry saying: "It's not an ideal situation," to what Brooksbank replied: "If I can make you feel any better, and even I can do it. It's not the quiet life, is it?"
"They don't care," Harry answered. Jack Brooksbank added: "I haven't time for that, not if it's over…"
"It's an eventuality," Harry concluded.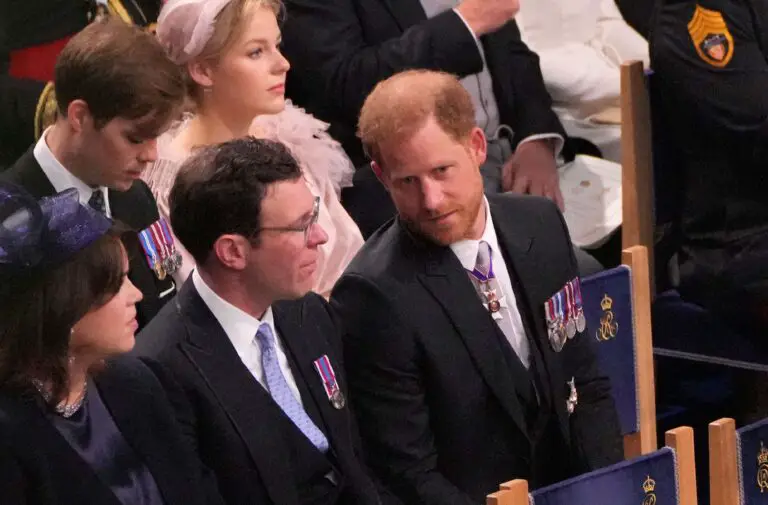 Language expert Judi James says Harry made an 'ignoring' gesture towards his brother once he arrived at Westminster Abbey.
"Harry performed what looked like an oddly-times act of ignore or attention diversion as his father, brother, and sister-in-law walked in a procession in front of him," James told the Mirror.
"Harry had been chatting animatedly to [Princess Beatrice's husband] Edoardo, jerking a thumb over his shoulder at one point, sharing a giggling laugh that seemed to involve his tongue placed between his teeth, and then doing a mutual, mirrored eye gaze with a matching lip clamp smile to Edo that seemed to signal mutual sympathy or empathy."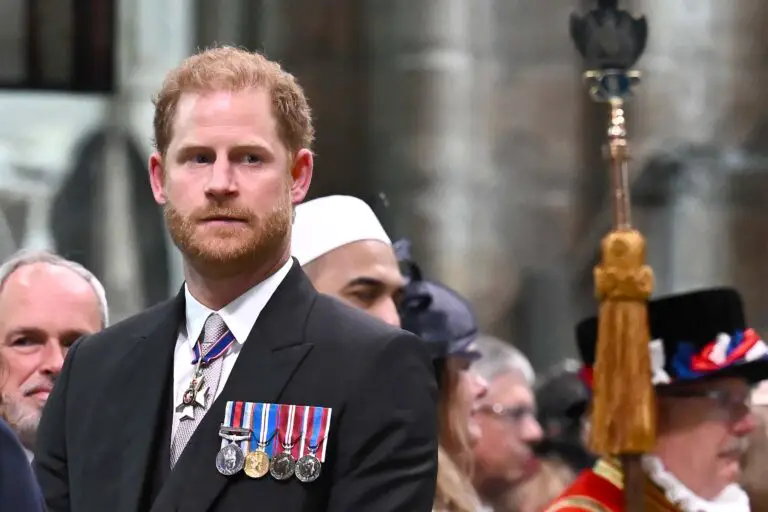 Further, she added: "Harry was looking up as Charles, William and Kate arrived to walk past but after looking at his father, Harry turned his head to speak to Eduardo again in a very odd way at a crucial point in the ceremony when all eyes and attention were on Charles and William's arrival."
The relationship between Harry and his father and brother, especially with William, seems to be at the rock bottom.
Please SHARE this article with your family and friends on Facebook.
Bored Daddy
Love and Peace