When it comes to reaching significant milestones in life, it's better late than never, just as in the case of this adorable elderly lady named Grace Lee McClure Smith who received a high school diploma from Hazel Green High School at the age of 94.
Smith dropped out of school some 77 years ago to marry the love of her life at only 16 years old.
However, according to Tim Hall, Director of PR at Madison County Schools, Smith's entire life was closely connected to the school. "She came back and for more than 30 years, she drove a school bus in Madison County, she served our students and got them safely to school and safely home for 30 years," he said.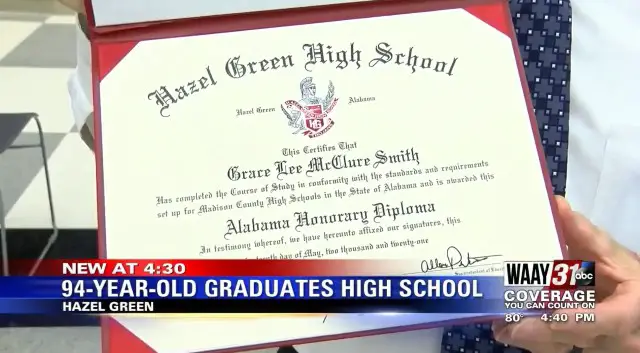 On June 2, 2021, Smith became Madison County's oldest high school graduate ever. That's something, isn't it?
Smith's granddaughter Erin Wilson, who arranged her granny to be part of the ceremony said: "She never ever mentioned regretting anything in life. She would never take it back because she absolutely loved my grandfather and that was just what she wanted to do, but I think this was very important to her."
Speaking of one of the best and most exciting days of her life, Smith said: "I feel like I don't deserve it. There's a lot more people that are much more deserving than me. I'm just doing my job, love it. I love most of it most of the time. Good times!"
What a lovely ceremony. Congratulations, Grace Lee McClure Smith!
You can check out the video of this beautiful lady getting her diploma below. Don't forget to share it with your friends.