When October is just around the corner everyone feels excitement over the best date of this month. Halloween is our favorite part of the fall because we get to eat lots of candies, trick or treat around the neighborhood, carve our Jack-O'-Lanterns, and best of all, we get to dress up and decorate our home with spooky skeletons, tombstones, and a lot more.
While everyone tends to make their place, especially their yard, a real scary attraction there are people like Amanda Destro Pierson whose Halloween decoration takes our breath away. She is a professional face painter and obviously a very talented one.
However, this year she decided to use her talent in order to pull off the coolest Halloween idea ever.
She made a real monster out of her garage door. She painted big scary teeth, and creepy monster eyes that you feel like they stare at you while walking by. But the best part of all is that when the garage door opens it looks like the jaws close and that makes it even more scary and chilling. There is no chance that you pass by it without taking a closer look.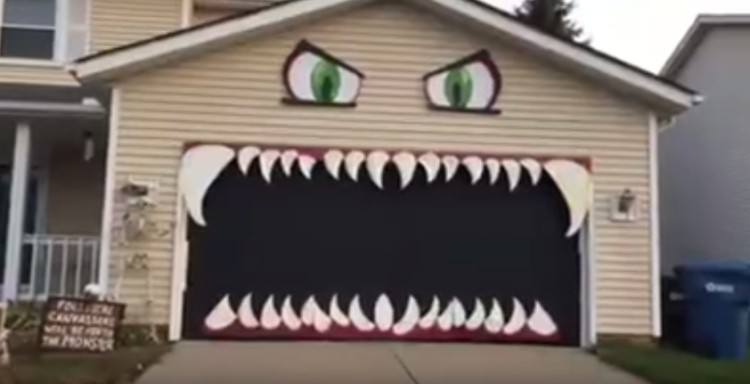 Amanda got the idea from Pinterest and decided to give it a go. It wasn't easy to do the whole thing because it required a lot of time, patience, and going to the store many times. It took 10 hours to finish the whole thing. She spent five hours working on the design, and then additional five hours painting the door. For the eyes, she used siding hooks and fishing line. But it was worth it at the end because it's a decoration like no other. The video of the spooky monster garage was seen more than 25 million times.
The home of Amanda is in Parma, Ohio, where she lives with her husband Andrew and her 13-year-old stepdaughter Kylee. Everyone in the family simply loves this holiday because it's that time of the year when they get to hang out together and dress up in elaborate costumes. Getting to paint the garage of the family home is something that made Amanda very satisfied and happy. Actually, the whole neighborhood is excited to have a spooky attraction like that.
Amanda says, "People have been honking their horns and waving when they see it. I would say it's just about all been positive."
Seeing the jaws open and close allows you to feel the true Halloween spirit.
Are you looking forward to Halloween like Amanda's family? Do you enjoy dressing up and decorating your home? Tell us in the comments section below, and if you like Amanda's work please share this with your family and friends.
What do you think ?
comments