What was supposed to be the happiest day in the life of the Hanson family, turned out to be a tragic event they will never forget. On April 6th, 2013, Andrew and Amanda lost their newborn baby. The baby's cry everyone was longing to hear was replaced with a deaf silence as the medical team of doctors was looking at each other not knowing how things got a wrong turn.
The doctors managed to revive the little soul, but only for a moment, before they lost him forever. So, what seemed to be a routine procedure ended up with a lost life and lots of sadness, crying, and disbelief.
The emotional scene was witnessed by the photographer Sarah Ledford who was invited into the delivery room in hopes of making memorable photos of the newborn that the parents would cherish forever, but instead, she immortalized through her photos a moment of devastation.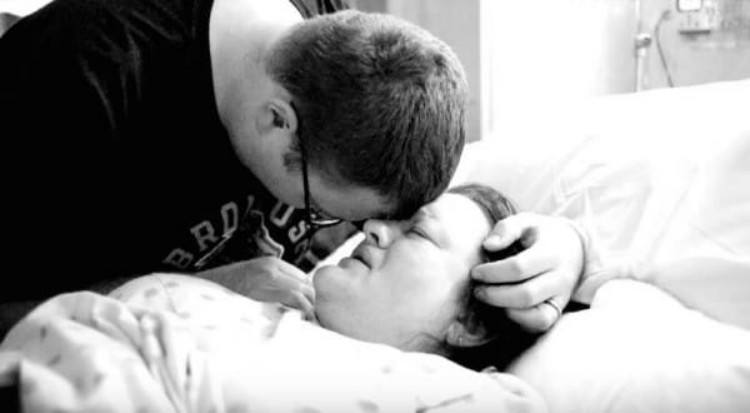 Amanda recalls how she could hold the baby's little hand before it was taken to the neonatal unit in hopes to be saved. Even though she spent only a few moments with her firstborn son, those are moments she will never forget. The doctors did everything in their power to save the little one, but unfortunately he passed away as a result of being without oxygen for too long.
The devastating event didn't only affect the parents but the doctors who fought for his life as well, among which Dr. Bryan Hodges. They could never imagine that a healthy pregnancy could end up with losing the child. Ledford was as well deeply saddened by the death.
Three months after this tragedy took place, there were some great news for the Hanson's. Amanda was pregnant again but she and her husband were pretty concerned and couldn't help but wonder if this time everything was going to be just the way they hoped.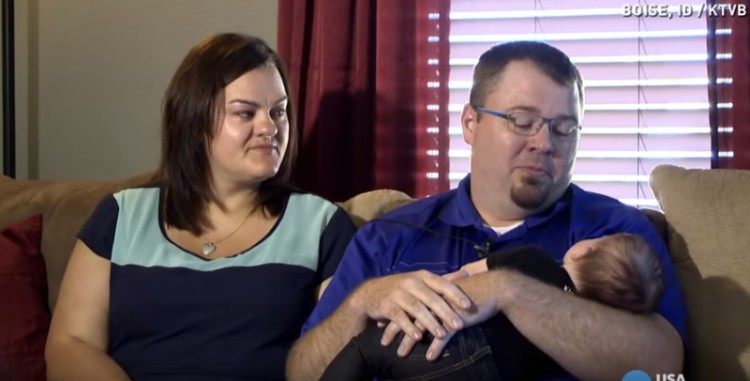 Now their rainbow baby was about to enter the world, the couple again invited Ledford to capture the precious moments. Even though everyone was a bit worried because of the outcome with the previous childbirth, everything turned out great this time, and baby Karson was perfectly healthy baby. This was one of the most touching moments Ledford experienced in her life. No one could hold back their tears of joy. The photographs Ledford took are simply amazing and tell us a lot about how it feels like to deliver a healthy rainbow baby. The photo of Andrew and Dr. Hodges hugging made the strongest impression and vent viral very quickly.
A rainbow baby is a baby born after the loss of a previous baby as a result of miscarriage, stillbirth, or death in infancy. This term is related to the rainbow that typically follows a storm, giving us hope of what's to come.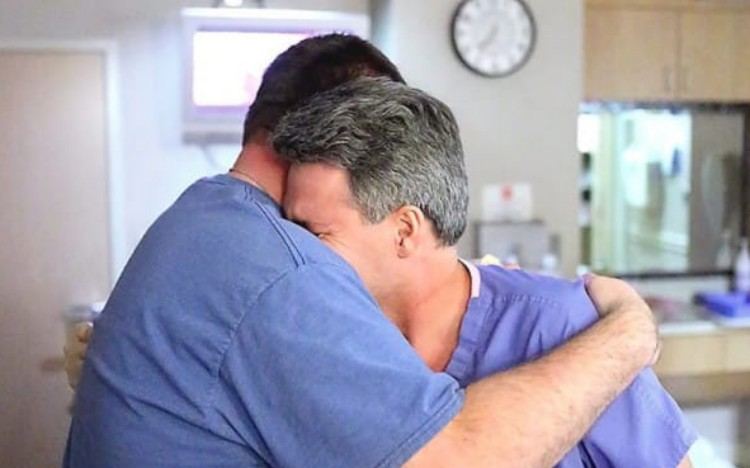 The photos will remain to remind us of the ups and downs we face. From tears of sadness to tears of joy in ten months time. Life can be difficult at times and although no parent can overcome the pain of losing a child, a rainbow baby will always give these people hope that they are meant to continue the fight and give their love to this new creature. Dr. Hodges and Sara Ledford will always remain part of the Hanson's life as someone who were at their side during both the worst and the happiest time they've experienced.
Please share this story with you family and friends.
What do you think ?
comments