The arrival of the new baby was something everyone in the Eppard family was looking forward to. Having a new family member meant sleepless nights, but also lots of laughter, joy, and fun.
The due date was July 17 but the baby was so eager to come to the world and meet his family that he ended up being born on a very interesting date, July 1. No one could imagine that the new addition of the Eppard's would be born on the same date as his father.
Well, if a father and a son sharing the same birthday sounds fun, wait until you see who else was born on this special day for the family.
Baby Beauden's great-grandpa, James Elmer Morrisetteis, was the first of the four generation man born on July 1, which makes the baby the third generation and according to science this happens once in 33,374 cases, which is truly extraordinary.
Although nobody expected for the baby to be born before the due date, circumstances required for the mother, Jordyn Eppard, to be rushed in emergency C-section.
Connor Eppard, baby Beauden's father, commented the lucky coincidence for TODAY, saying: "When we found out last fall that we were going to have a little baby, it just happened that the due date was close. We kind of joked about having all three of us on the first, but didn't really take it seriously."
All this Colorado family hoped for was for the baby to be healthy, and Beauden was born 8 pounds 11 ounces.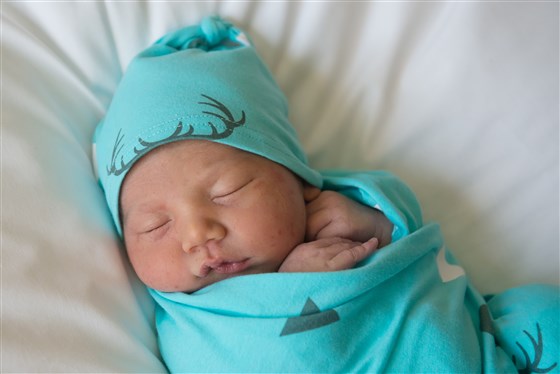 When she recalls the event, Jordyn says that she wasn't happy at first with the baby being born almost 3 weeks earlier because she feared there might be complications regarding his health, but after finding out that everything was right with her son, she got to celebrate his birth and the lucky coincidence.
The time came for the great-grandfather to hear the happy news. Before Connor told him about the birth of his great-grandchild he remembers saying: "Hey grandpa, you might want to sit down for a second."
Morrisette and his wife rushed to the hospital to meet the sweet little baby. Beauden's parents wanted to honor the great-grandfather so they decided to add his name on the baby's and changed the full name from Beauden Matthew to Beauden Matthew James.
Connor told TODAY, "Grandpa is the prototype gentle, old man, I hope someday I can be like that. He's a great guy, truly a role model." 
Now imagine having a birthday party of three people happening at once. That must be really fun.
If you liked this amazing story, please share it with your friends.
What do you think ?
comments