When someone loses a child there are no words of consolation. No parent should ever suffer the unbearable pain of not ever spending another holiday, another summer, another birthday with the one they loved the most. No matter how much time passes by, the grief and the sorrow will always remain raw.
One mother who suffered the loss of her son due to a high-speed chase sought solace in texting her son's old phone. She was aware she would never get a text back, but sharing her feelings with her deceased son this way was the only thing she had.
Taylor Thyfault was killed in May 2015. He was a truly exceptional young man who had dreams of joining the army, buying things, visiting places. He had his goals set straight and worked on their fulfillment. Unfortunately, this young soul lost his life before having the chance of reaching the 25 future goals he put on a list.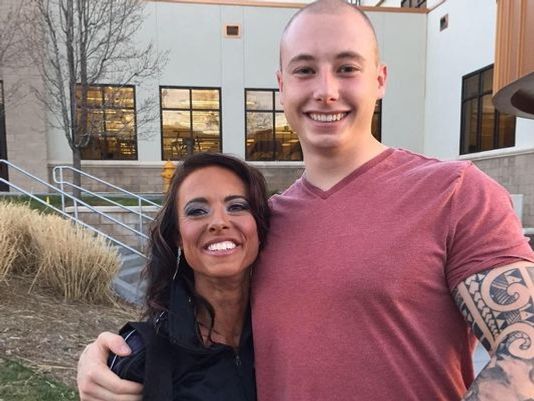 Those goals were:
Join the Army and be the best that I can be
Go bungee jumping
Get married
Start a family
Buy an English Bull Dog and name him Diesel
Swim with sharks
Visit Hawaii
Visit the tribe I am from (Saquangue Lakota Oyate)
Save a life
Coach a Lacrosse team
Graduate high school
Get a masters part time in the military
Get a job
Buy my own truck
Wrestle an alligator
Meet the 'Jackass' crew
Buy my Quad
Play football for a minor league
Go cliff diving
Volunteer in the community
Go to Alaska
Be there for all of the people that have been there for me
Never be arrested
Go to Oktoberfest in Germany
Be the best man, husband, son, soldier, and friend as … possible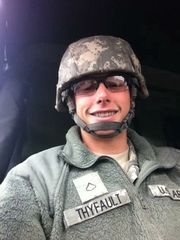 By the age of 21, Taylor was already an Army veteran and in the final stages of his cadet training with the Colorado State Patrol. On the day he was killed he was on an assignment together with Trooper Clinton Rushing. They worked on a crash investigation on the Highway 66 near Weld County when they were warned about a high-speed police chase.
They tried stopping the driver by using stop sticks but he managed to miss them and crashed directly into both men leaving Rushing critically injured and Thyfauld dead at the scene.
Before the tragic event, Thyfault saved another man's life by warning him to get out of the way. The low-truck driver was at the scene when the tragedy struck but he was lucky enough to listen to Taylor's warnings. This certainly made him a hero. His mother Adler knows his son's heart was big and that helping others was something he did all the time.
"And if you asked him, he'd do it again, because he sacrificed himself, for someone else," Adler said. "He lived, he dreamed and breathed that."
Adler and her son had a very close relationship. They often spend time bonding, they worked out together, they had coffee on Friday mornings and spent quality mother-son time. The day of the accident they communicated via text messages. Adler's grief was so strong she believed she'd never manage to continue living without her son.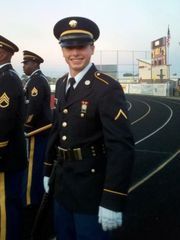 "Every day, it hits me like a ton of bricks, when I can't text him," Adler said. "We're just that close. Everything that happened in his life was in my life."
In order to cope with her grief Adler felt the need to tell her son how she felt and how she deeply missed him so a couple of weeks after his death she sent a text message to his number. She knew that it was a one sided communication, but somehow, it made her feel as though he could listen. But, after several text messages something unbelievable happened. She got a text back.
The message came from Sergeant Kell Hulsey from the Greeley Police Department who got a new work phone this summer. At first he decided to ignore the messages believing they were the wrong number, but eventually answered to one of them wanting to tell the person from the other side they were reaching a wrong number.
"So I sent a text back and identified myself, and said 'I'm with the Greeley Police Department, and I don't think your texts are going where you think they are,'" he texted.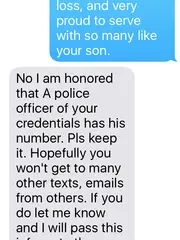 Adler responded immediately, saying she was Taylor Thyfault's mom. Sgt. Hulsey offered to get a new phone number but Taylor's mom asked him to keep her son's phone number because he was now doing Taylor's dream job.
Sgt. Hulsey couldn't help but think about the passion he had when he started 33 years ago. He felt an instant connection with Thyfault.
"He's eager. He's excited, and he's willing to do a job that can sometimes be really unthankful," Sgt. Husley said.
By learning more about him, Hulsey found he has new energy, new faith in this career. And, he has someone else looking out for him.
Carole still sends texst to that number occasionally, just to say hi and ask how's life, as well as to remind Hulsey to stay safe. Thyfault is their connection.
"[Thyfault is] still trying to make a difference," Sgt. Hulsey said.
Because of his accomplishments, Thyfault's name will be added to the national memorial to fallen officers. His mom, his relatives, and his friends will be there to honor the memory of this amazing young man who saved a life.
What do you think ?
comments