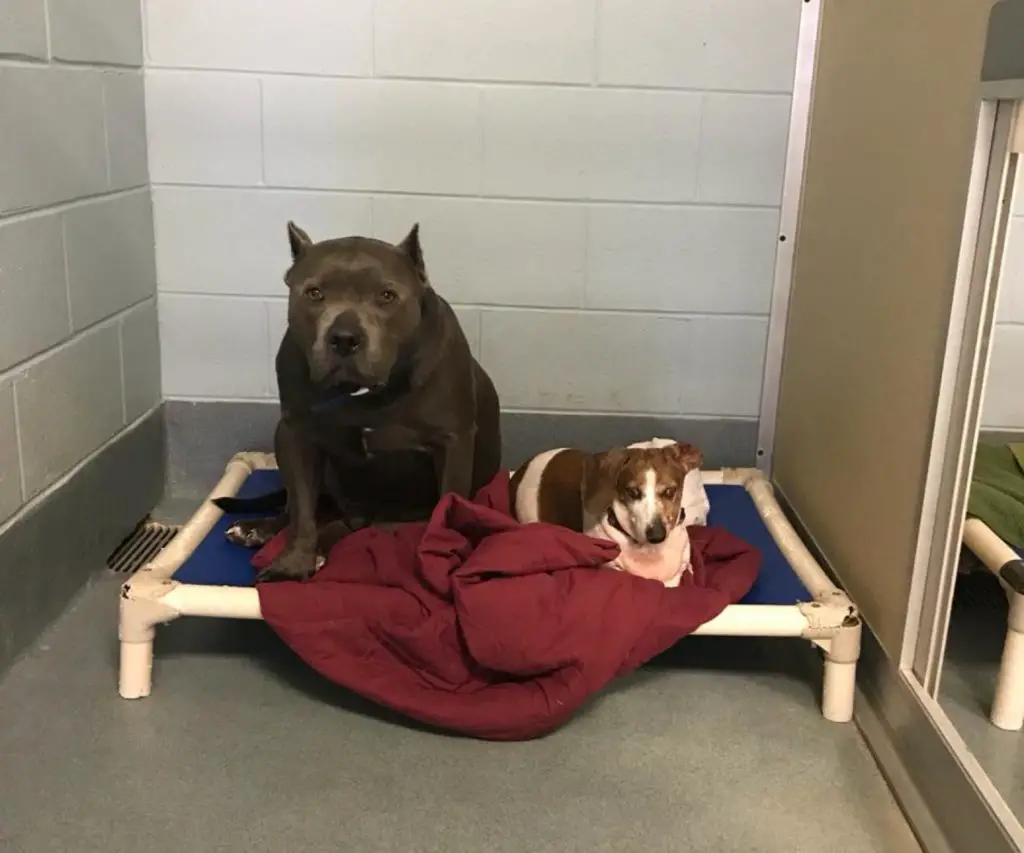 Blue Dozer, a 6-year-old pit bull, and 12-year-old OJ, a dachshund who is blind, were given to the Richmond Animal Care and Control shelter after their owner became homeless and couldn't provide for them. The shelter asked for them to be adopted together, and they were. (Richmond Animal Care and Control)
They came in as a pair and they were adopted as a pair — a blind 12-year-old dachshund and his guide dog, a 6-year-old pit bull. The two found a new home this week, but one dog was discovered a few days later wandering on a rural road 100 miles away.
The dachshund is named OJ, and the pit bull is named Blue Dozer.
And in the past few days, their tale, which sounds straight out of a Hallmark movie, has gone viral on social media with thousands of animal lovers offering to adopt them and doling out criticism, worry and support for what a Richmond shelter official called a "delicate situation."
Late Wednesday, after hours of dealing with logistics and trying to persuade the owner to return the pit bull so they could be together, the dogs were back together. Upon being reunited, they wiggled and rubbed each other and hopped in a truck to head back to the Richmond shelter that had handled their adoption.
"Our main concern is they needed to be together," said Christie Chipps Peters, director of the Richmond Animal Care and Control shelter. "They're a unique, bonded pair. OJ can't see well, and he needed his buddy with him."
The dogs' journey started when the pair were brought in Friday to the Richmond shelter after their owner became homeless. She had adopted the pit bull four years ago from the shelter and already had the dachshund. The dogs immediately became best friends.
The owner couldn't keep them but her request was for them to stay together, if possible. The shelter agreed and took the dogs.
On its Facebook page, the shelter described the relationship between the two as the "cutest (and saddest) thing."
"OJ is blind and depends on Dozer to show him around," the shelter wrote. "We can't stand the cuteness and kindness these two share. Anyone willing to love a bonded pair of perfection?"
On Sunday, a woman stepped forward to adopt the pair. Peters said the woman, whose name was not disclosed, had emailed after seeing a Facebook post about the dogs. She filled out the required paperwork and told Peters that she had lost her pit bull a few years ago and could handle two dogs. Peters described her as being "super nice" and said there "wasn't any cause for concern" at the time.
The woman and the dogs left together, and the Richmond shelter updated its Facebook post to say that the two had been adopted, using the hashtag #BestFriendsForLife.
But the pair soon ran into trouble.
On Tuesday, OJ was brought in to the Shenandoah Valley Animal Services center near Staunton, Va., by a man who said that he found the dog on the side of a road and that he appeared to be a stray. Blue Dozer was not with him.
Tracey Meadows, acting director at the Shenandoah shelter, said Wednesday that they checked OJ and used a microchip and a tracking database to figure out that he had come from the Richmond facility, and they found his new owner.
Meadows said that when the shelter contacted the woman who had adopted the two dogs from Richmond, she said that "someone was watching the dog [OJ] for us."
Meadows said the owner told her the pit bull was with her. The woman told Meadows that she could keep OJ but that she didn't want to give up Blue Dozer.
Once the word got out that OJ had been found alone on a road in Staunton, the dogs' tale gained attention, as people followed updates in suspense, wondering whether they would be reunited.
Some animal lovers made offers on social media to adopt the pair. Others called for their new owner to be fined or banned from adopting animals in the future. But mostly it was an outpouring of worry and affection for the two canines.
For hours on Wednesday, Peters said she went back and forth talking to the woman, trying to persuade her to give up Blue Dozer so the pair could remain together.
"She really loved the dog," Peters said of Blue Dozer. "She wanted to keep him."
But Peters said she thinks the woman didn't "fully understand they needed to be together." She said she thinks the woman also became afraid. The woman told Peters she had received more than 600 death threats on email and social media.
Eventually, the owner agreed to turn over Blue Dozer and meet shelter officials in a parking lot. His best friend, OJ, was waiting.
On Facebook, the Richmond shelter's post about the dogs' adoption, then separation and rescue, had nearly 3,400 shares and more than 1,500 comments.
Alison Jackson wrote on Facebook upon seeing that the two had been reunited, "Thank God! Now I am crying all over again."
Wendy Bentley, who has a blind dog, wrote, "Thank God! This story made my heart hurt." She said, she "can only imagine OJs confusion losing his home, his owner, and then his best friend."
And Jan Cafferty wrote that she was angry when she read about what had happened to the pair. "Somehow thought in the back of my mind I knew these precious souls would be reunited. Such wonderful news to wake up to in the UK."
Officials at the Richmond shelter responded to some of the criticism they had faced on social media regarding how the two were adopted and then became separated. On Facebook they wrote, "The only thing that matters is these sweet dogs get to stay together — and in the end that's what we have."
They said nothing will be done with the two right away other than "snuggling them together." At some point, they said, the pair will be offered for adoption once shelter workers gone through the hundreds of requests.
This time, whoever adopts them will be required to sign a document, promising to keep the pair together.
Peters said that although it is not uncommon to have a bonded pair of dogs, these two are rare in that they're such different types of dogs.
"You've got this giant, beautiful pit bull mix and this tiny dachshund, and they're inseparable," she said.
OJ can detect only shadows and relies on Blue Dozer to "make the way" as he "plods along behind him," Peters said. At times, the 10-pound OJ runs into the 90-pound Blue Dozer when he follows too closely.
"They sleep smashed together," Peters said. "They're a unique pair."
Peters said the woman who adopted them did the right thing by giving Blue Dozer back to the shelter. She said that the woman will face no legal ramifications and that the dogs were not in danger. She said she didn't know how — or why — OJ had been left on the side of the road.
Peters said that OJ can be snarky and that maybe the woman thought he was "too much to handle or she just didn't want him."
The Richmond shelter said it has a "91 percent save rate" and adopts out "thousands of animals a year into loving homes without issue."
Although the shelter said it does adoptions based on the "best interest of each animal," it "can not account for decisions that are made by citizens after adoption."
"In the end, we have to trust people — trust them to love the pets we have cared for, and trust them to do what is best."
Think your friends would be interested? Share this story!
What do you think ?
comments